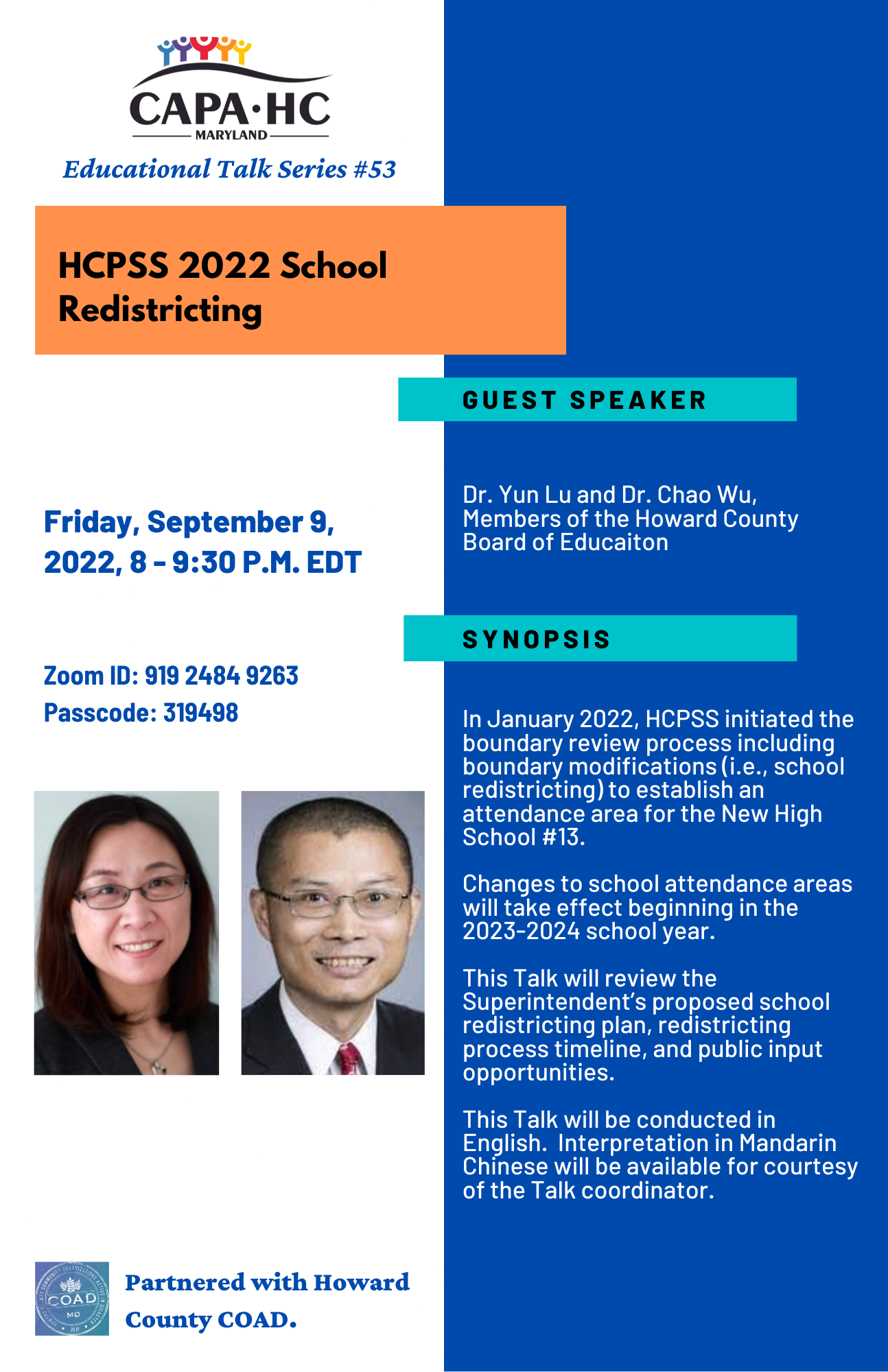 Webinar: HCPSS 2022 School Redistricting
Time: Friday, September 9, 2022, 8:00 – 9:30 PM EDT
Speakers: Dr. Yun Lu & Dr. Chao Wu
Zoom Meeting ID: 919 2484 9263
Passcode: 319498
In January 2022, HCPSS initiated the boundary review process including boundary modifications (i.e. school redistricting) to establish an attendance area for the New High School #13.
This Talk will review the Superintendent's proposed school redistricting plan, redistricting process timeline, and public input opportunities.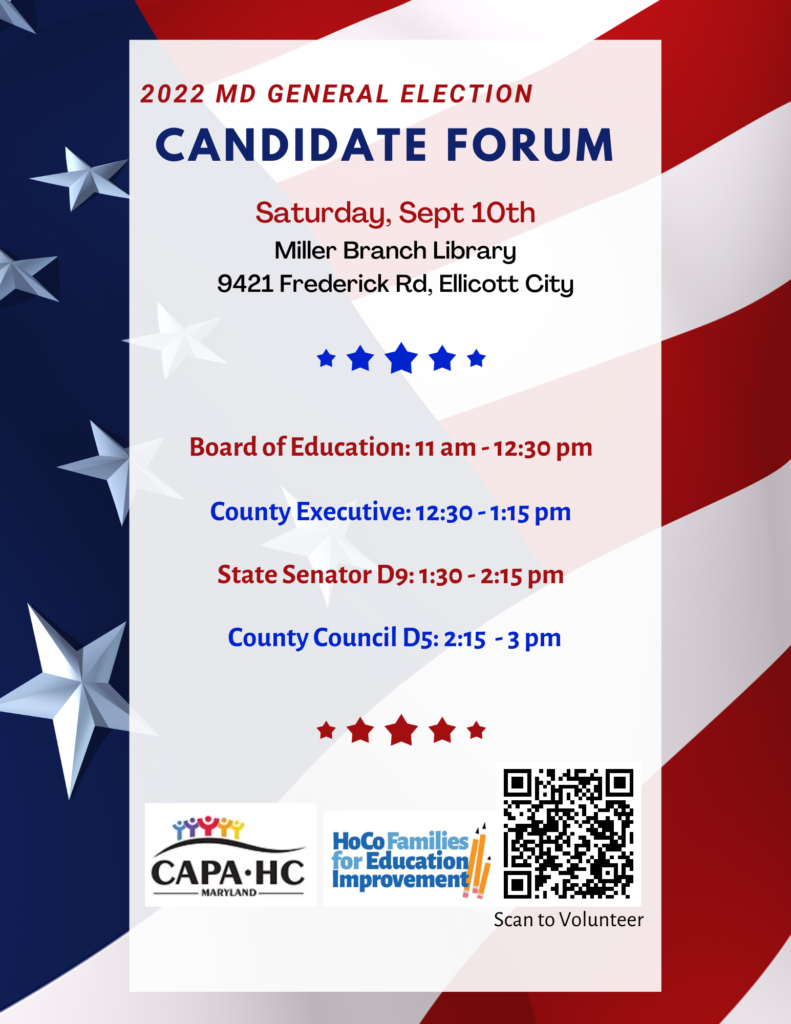 在General Election到来之前,CAPA 将于9月10日周六以及9月25日周日举办两场候选人见面会(Candidate Forum)。请大家预留时间,不要错过这个与候选人面对面对话的机会!
现需义工(成人和青少年皆可),如果您感兴趣,请扫码或点击以下链接报名,谢谢!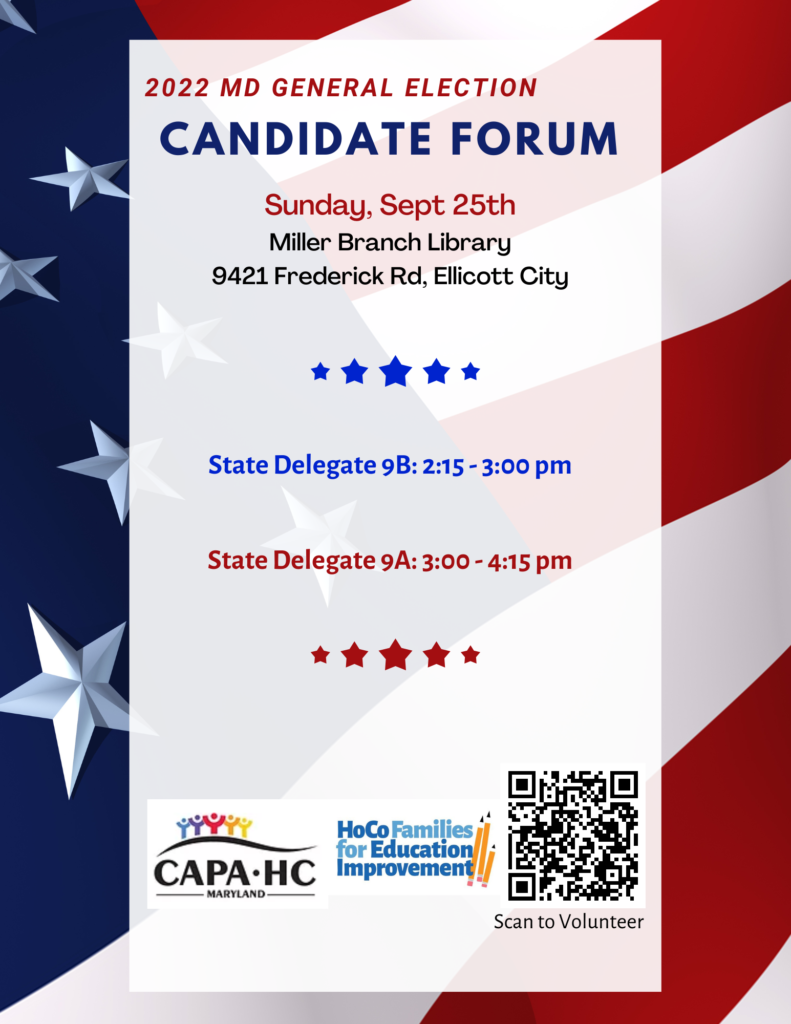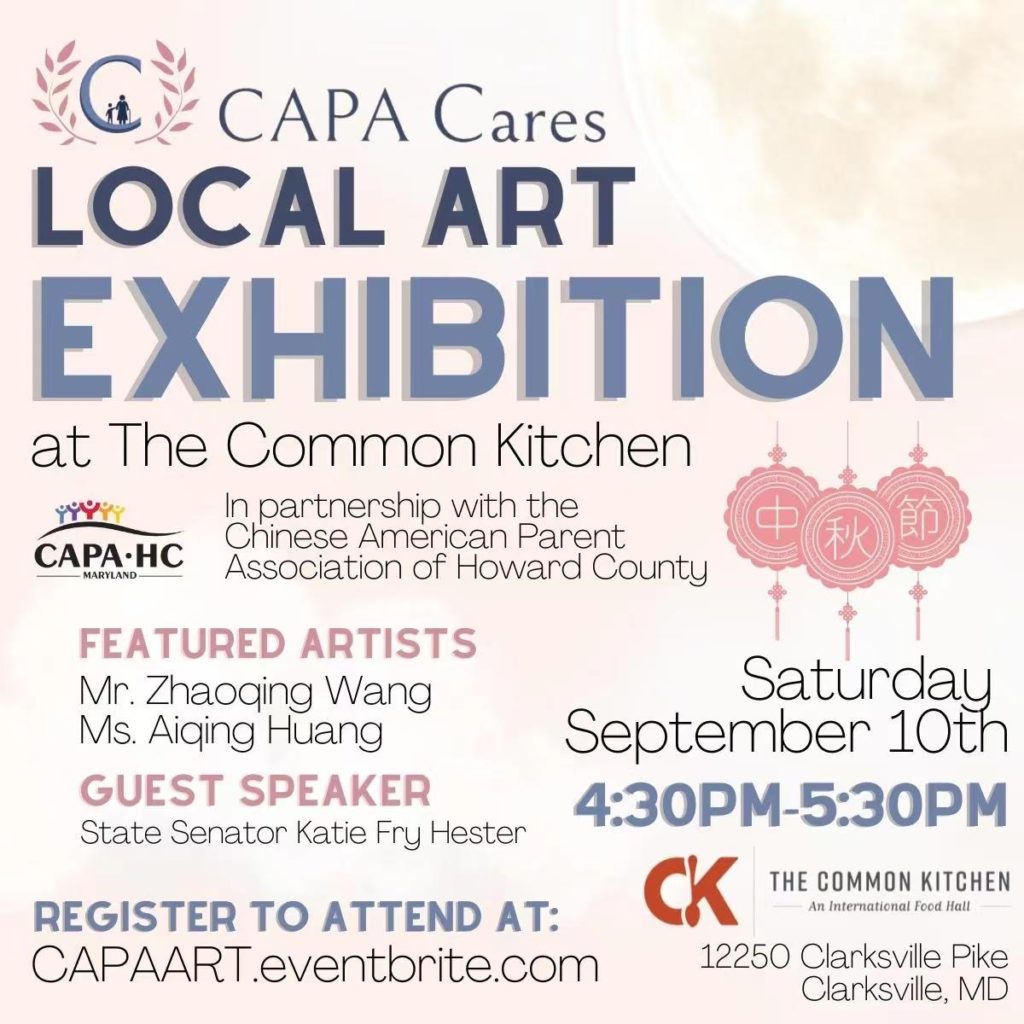 𝗖𝗔𝗣𝗔 𝗖𝗮𝗿𝗲𝘀 本地艺术家艺术展
CAPA-HC 与 Clarksville Common Kitchen 联合推出 
CAPA Cares 本地艺术家作品展系列!
本次艺术家特色作品来自 
Mr. Zhaoqing Wang 和 
Ms. Aiqing Huang
特邀嘉宾:
State Senator Katie Fry Hester
招待会时间:
2022年9月10日(星期六)
4:30-5:30pm
作品展览时间:9月10日-11月1日
地址:The Common Kitchen, 
12250 Clarksville Pike Suite A, 
Clarksville, MD
欢迎家里有老人和学生的朋友来参加招待会,欣赏CAPA Cares老年艺术家作品,听CAPA Cares的志愿者讲述中国书画背后的故事,向州议员Katie Hester了解马里兰立法机构对于教育、税收等方面的最新动向和政策。还有中秋月饼试吃哦。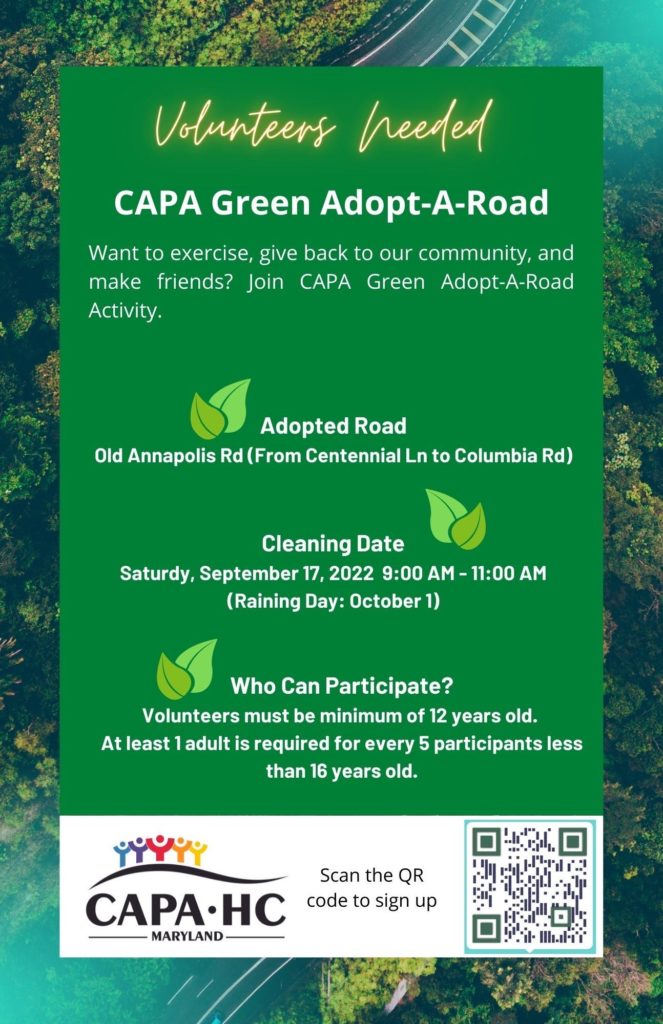 CAPA Green Adopt-A-Road Volunteers Needed!
Want to exercise, give back to our community, and make friends? Join CAPA Green "Adopt-A-Road" supported by the Howard County Department of Public Works.
Where: Old Annapolis Road (From Centennial Lane to Columbia Road)
When: Saturday, September 17, 2022,  9-11:00 AM (Raining Day: October 1)
Who: Volunteers must be minimum of 12 years old. At least 1 adult is required for every 5 participants less than 16 years old.
Where we meet: Centennial Park North (9801 Old Annapolis Rd, Ellicott City, MD 21042)
Will receive 2.5 volunteer service hours
Space is limited, so register by 09/15 (Thursday) to secure your spot! Looking forward to sweating with you!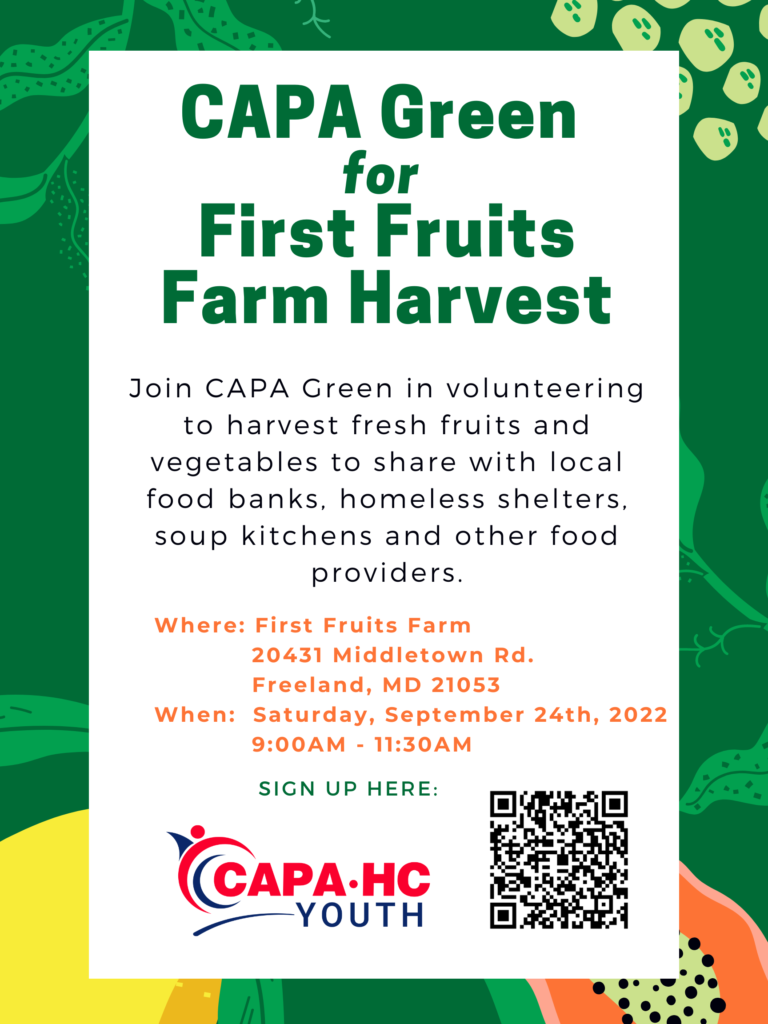 CAPA Green Fall Harvest for Local Charities
CAPA邀请您和家人一起,
9月24日周六上午9-11:30AM
加入我们的秋日慈善采摘活动!这是今年的第三次釆摘活动。本次活动地点为 First Fruits Farm, 采摘的蔬果全部捐给本地慈善机构。学生 volunteer 获3.5小时 service hours.
参加的朋友请扫码报名, 建议四年级以上学生。等报名人满之后将会 email 大家waiver form。请注意:每一位参加的朋友无论大人或孩子都需要填写一份waiver.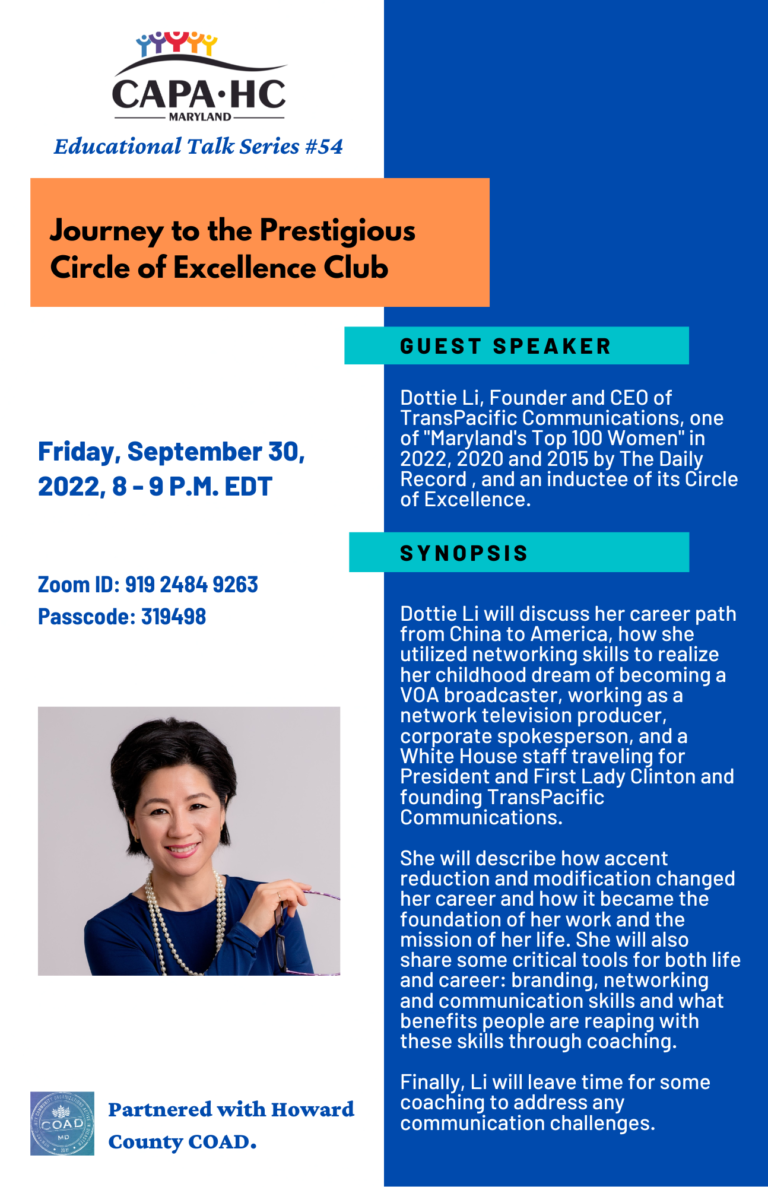 Webinar: Journey to the Prestigious Circle of Excellence Club
Time: Friday, September 30, 2022, 8:00 – 9:00 PM EDT
Speakers: Dottie Li
Zoom Meeting ID: 919 2484 9263
Passcode: 319498
Dottie Li will discuss her career path by sharing critical communication skills for immigrants. She will also answer questions through coaching.