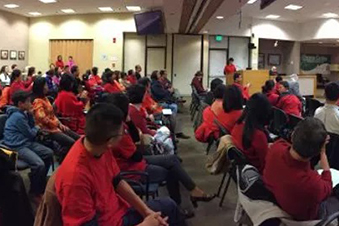 About Us
Chinese American Parent Association of Howard County (CAPA-HC), founded in Fall 2015, is a 501(c)3 non-profit organization and enlisted as a CFC charity (Combined Federal Campaign).
Launched in the fall of 2015, CAPA-HC has experienced rapid growth in the past few years, reaching over 2000 registered members in Howard County.
Although it was originally founded as an entity for Chinese American parents, CAPA-HC provides opportunities for all underrepresented citizens and immigrants through equitable access to resources, services, and programs. CAPA-HC provides three core services: Family & Youth Education, Community Outreach, and Civic Engagement.
CAPA-HC collaborates with the public school system, community organizations, private foundations, and the County Government to leverage its services and meet the needs of families with diverse backgrounds.
Milestones
September 2015 CAPA was officially launched after a successful 2-year advocacy for a school day off on Chinese, Indian and Jewish traditional holidays. HCPSS is among the first school districts to honor Lunar New Year as a school holiday.
June 2016 Achieve Success Together was launched. It later developed into a renowned education program in Howard County, expanding CAPA's service to a diverse population. It also offers immigrants a unique opportunity to serve the larger community and thus help them to develop a sense of belonging to the community
October 2016 CAPA held its first Board of Education candidate forum. It was the first candidate forum in Howard County history that was organized by Asian immigrants and demonstrated that immigrants are civically engaged as well as promoting to the immigrant community awareness of their civic duties.
May 2017 The first Dragon Boat Festival celebration was held at Centennial Park and later became an annual joint celebration of Asian American and Pacific Islander Heritage Month that involved a large group of Asian community organizations
June 2017 CAPA received its first grant funding from the Howard County government. This marked as the first step to collaborate with the local government.
January 2018 CAPA organized a Lunar New Year celebration in partner with the Korean community, which was the first community initiated joint LNY celebration in Howard County.
November 2018 CAPA signed a partnership agreement with HCPSS.
December 2018 CAPA was enlisted as a Combined Federal Campaign Charity.
February 2019 CAPA was certified as a President's Volunteer Service Award organization.
April 2019 CAPA received grant funding from the Maryland state government to help promote 2020 Census to the local community. CAPA was one of the three grant recipients in Howard County.
January 2020 CAPA launched its political counterpart, CAPA PAC.
February 2020 CAPA signed an agreement with Howard County Department of Health as one of the four WE CARE initiative partners.
March 2020 In response to the COVID-19 pandemic, CAPA launched a variety of online educational program including AST online tutoring, the AST virtual summer camp, and the weekly educational talk series. Multiple GoFundMe fundraising were created to support local health care frontline workers, first responders, and local restaurants.
June 2020 CAPA Cares was launched to help low-income Chinese senior citizens living in senior apartments