Young Leaders Summer Internship Graduation Ceremony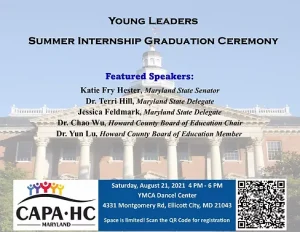 Young leaders summer internship program provides a unique opportunity to outstanding Asian American and Pacific Islander (AAPI) students to learn firsthand about the state government, legislative process, and careers in policy making. The goals of this program are to build strong relationship between local AAPI community and government; train, empower and connect AAPI youth in civic engagement; and develop AAPI civic leaders and build a pipeline of AAPI members in government offices.
We established partnership with Maryland State Senator Katie Fry Hester, State Delegates Dr. Terri Hill and Jessica Feldmark, Howard County Board of Education Chair Dr. Chao Wu and member Dr. Yun Lu. Eight high school and college students were selected through an application process. They were matched to our partners after participating a training program and working as interns in their offices during summer.
CAPA is holding a graduation ceremony to celebrate the achievement of the young leaders.
When: Saturday, August 21, 2021 4-6pm
Where: YMCA Dancel Center
4331 Montgomery Rd, Ellicott City, MD 21043
You are cordially invited! Please register here for the ceremony.