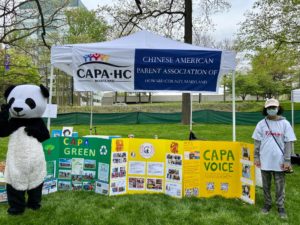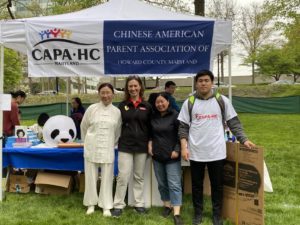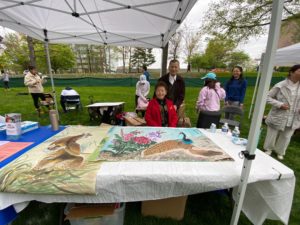 On Sunday, May 1, 2022, CAPA-HC participated in the inaugural AAPI Heritage Festival of Howard County, held in the Chrysalis in Columbia. CAPA Cares volunteers and elderly residents, a team of fifteen, presented a memorable chorus performance.
Several elected officials of the state and county attended the opening ceremony. "We are a place that is diverse, and we are a place that embodies inclusion. When there is so much division and negativity around the world, here at Howard County we embrace not just what it is, but what can be." County Executive Dr. Calvin Ball commented. He went on to proclaim the AAPI Month in Howard County. "We'll continue to walk this journey together," he added.
CAPA Cares, CAPA Green, and CAPA Voice volunteers conducted a variety of activities at the CAPA booth, which featured a giant panda figure. They sold used books to raise funds for an animal shelter, distributed Chinese ethnic gifts, showcased the Diabolo (Kong Zhu), and recruited youth volunteers. Dr. Calvin Ball visited the booth and was interviewed by CAPA Voice reporter Nathan Zhong. "As we continue the recovery from the pandemic, there is an opportunity to build a better future together," Dr. Calvin Ball commented.
The festival kicked off the annual AAPI Month celebration. State Senators, Katie Hester and Clarence Lam; the county's first Asian American Police Chief, Gregory Der; and BOE members, Dr. Chao Wu and Dr. Yun Lu also voiced support for the festival and the AAPI community, which makes up about 20% of the county's population. When being interviewed by CAPA Voice, they encouraged the CAPA Youth members to continue to play an active role in building a vibrant community.
"Events like this really showcase how much the Asian community brings to Howard County in terms of culture, economic development and having a good time," Senator Hester stated.
Over 50 AAPI community organizations attended the festival, which was marked by cultural performances and other attractions. The festival was made possible by the County's AAPI Workgroup, where Jodie Wang, CAPA's Executive Director, served as co-chair. CAPA is excited to see one of the first large celebrations of AAPI culture and looks forward to spearheading similar events in the future.